It's a rough time for The Kraft Heinz Company and its investors. Just two weeks ago on February 21st, Kraft Heinz announced a triple-whammy of bad news that sent the stock tumbling.
First, the KD maker disclosed it was being subpoenaed by the Securities and Exchange Commission (SEC) for an investigation into Kraft Heinz's accounting practices. Second, the company announced a $15 billion write-down of the goodwill value of its Kraft and Oscar Mayer brands. When a smaller company is bought up by a larger company, the larger company often overpays thanks to the brand strength or 'goodwill' of the smaller company. Well, it turns out that the Kraft and Oscar Mayer brands are too bland for today's health-conscious consumers who are moving away from processed foods like Jell-O, Velveeta, and Oscar Mayer wieners. (No wonder Kraft sits at the very bottom of the global Access to Nutrition Index).
The pileup of financial woes combined with a dismal sustainability score and a red flag for failing to disclose where its palm oil (often linked to deforestation) comes from (standard practice now for big competitors like Nestle and Unilever) provide plenty of good reasons to kick Kraft Heinz out of your portfolio pantry. What could you replace it with to keep your portfolio spicy? Introducing Maryland-based McCormick & Company, a spice and flavour manufacturer that ranked 13th on the 2019 Corporate Knights Global 100 Most Sustainable Companies in the World.
McCormick creams Kraft Heinz on nearly every sustainability metric in our scorecard except its median CEO-to-worker pay ratio. The company is growing by acquiring fiery brands like Franks RedHot and French's, the condiment company that's been stealing Heinz 54's market share in the great Canadian Ketchup Wars by supporting Canadian tomato farmers. It's also setting aggressive 2025 sustainability goals like a 20% reduction of CO2 emissions and using 100% reused, recycled, or repurposed plastic packaging.
Both Kraft Heinz and McCormick own iconic food brands, which means they should be more stable during a recession when people are more likely to cook at home. That said, there is no doubt that McCormick is the big winner in this week's Sustainability Showdown.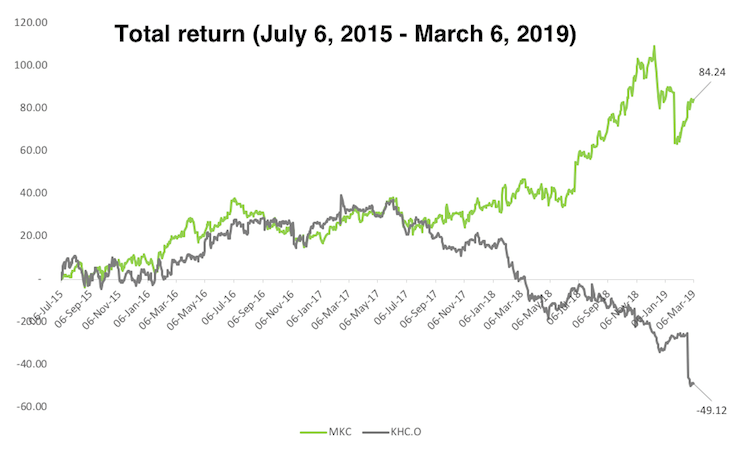 Note: Kraft Heinz cut its dividend by 36%. Just beware that the dividend metric we use above – the 12-month Trailing Yield – will come down considerably.  The 12-month Trailing Yield adds up all the dividends over the last year and divides it by today's share price. It'll take a full year before that metric comes down to reflect the recent news, so you'll want to mentally lower it to reflect the 36% cut.
Have a company in your portfolio that you want to replace with a more sustainable option? Write us an email or send us a tweet!

Tim Nash blogs as The Sustainable Economist and is the founder of Good Investing. He teaches people how to invest online and make intentional decisions with their investments.