Drive any road in Salinas Valley, Calif., and you're apt to see crews of workers stooping to weed or harvest fields of lettuce, spinach, tomatoes or strawberries. Sometimes called "America's Salad Bowl," this is John Steinbeck country, the place that inspired him during the Great Depression to write "Of Mice and Men" and "The Grapes of Wrath" about the migrant workers who, then and now, do backbreaking work under harsh conditions for low pay.
To replace some of those migrant workers, Jorge Heraud, co-founder and CEO of a startup called Blue River Technology, has invented a "smart" implement that is able to thin out excess lettuce plants. Smart implements are machines that use cutting-edge robots, computer vision and software algorithms, and they promise to make farming not merely more efficient but more sustainable. They will do so, if all goes according to plan, by precisely delivering fertilizers and pesticides to individual plants, significantly reducing chemical use in agriculture that can pollute waterways and overuse of fertilizer that increases carbon emissions. In fact, about half of the nitrogen fertilizer applied to crops is wasted, according to the Environmental Defense Fund.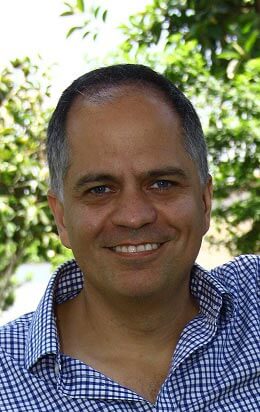 "We can help farmers to use somewhere between five and 10 times less chemicals," says Heraud. "That could have a tremendous impact on water supplies. It could have a huge environmental benefit. And create huge cost savings."
For the moment, though, Blue River is building its business by manufacturing and leasing machines that replace hoes and the contract laborers who wield them. It's a new twist to an old story, Heraud explains.
"Two hundred years ago, about 90 percent of the population was involved in food production. Now it's less than 2 percent," he says. The mechanization of farming has kept food prices low and has "been a tremendous benefit to society, by freeing up people to do other things."
What's ahead, he says, is a lot more exciting.
Harvesting new technology in Silicon Valley
Blue River's offices and manufacturing facility—little more than a big shed, really—can be found about an hour's car ride north of the lettuce fields in Sunnyvale, Calif., a Silicon Valley city that is home to tech companies including Yahoo and Advanced Micro Devices.
Silicon Valley these days is abuzz about food and farming, especially about the potential of "precision agriculture," a growth business that aims to apply digital technology to farming to maximize production and limit environmental impacts. In 2014, food and agriculture technology, which includes everything from biotech and drones to grocery delivery and vegan mayonnaise, attracted $2.36 billion in venture and private-equity financing across 264 deals, according to the AgTech Investing Report. In one of those deals, Blue River raised about $10 million from prominent investors including Khosla Ventures and Innovation Endeavors, whose founding partner is Eric Schmidt, the executive chairman of Google.
A 44-year-old immigrant from Peru, Heraud came to the United States to earn a master's degree in electrical engineering at Stanford University in the early 1990s. He knew a bit about farming—his family grew tomatoes and raised chickens in Peru—and after grad school he went to work at Trimble, a Sunnyvale company that specializes in global positioning. He ran engineering for its agriculture business that provided GPS-guided steering for tractors, sprayers and combines, and later oversaw the precision agriculture group.
In 2010, he returned to Stanford to pursue a master's degree in business administration. "I was really passionate about startups," Heraud says. He thought a lot about "autonomous mobility"—not the self-driving cars being built by Google, but computer-guided vehicles for farms, or around mines or construction sites where safety issues would be manageable. He figured self-driving equipment would save labor costs and improve efficiency. "Why don't we have automatic lawnmowers to mow golf courses, even at night?" he wondered.
Only after Heraud met Lee Redden, a graduate student who was pursuing a doctorate in robotics, did he pivot, as they say in Silicon Valley. The two took a class from Steve Blank, who popularized the idea of the "Lean Startup," an approach that has entrepreneurs rapidly test their ideas and products with customers. Heraud and Redden soon learned that autonomous mobility, even off road, was too complex for a small company to tackle and that customers didn't want a self-driving lawnmower.
But it turned out that farmers did want help with weeding. So Heraud and Redden chose to take on smart implements. As graduate students, they formed Blue River in 2011. Blank was an early investor, and they were awarded a $150,000 research grant by the National Science Foundation.
Lessons from lettuce
Blue River's first product, dubbed the Lettuce Bot, was launched commercially in 2013. Because lettuce seeds don't all germinate, they typically are planted close together and, after a while, most plants need to be killed. Blue River's machines, which are 20 feet wide and pulled by a conventional tractor, use cameras to photograph the plants and software to instantly analyze the images. "It's a program that looks at all the information and decides which plants live and which ones die," Heraud says. "We call it the jury."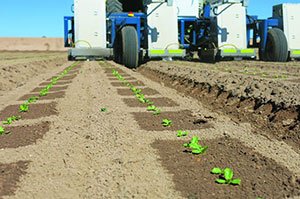 Immediately afterward, robotic arms deliver a spritz of fertilizer on the leaves of unwanted plants to kill them. Heraud explains: "Fertilizer is good for plants when they absorb it through the roots. They can't absorb it through the leaves." This is the most environmentally benign way to kill the plants, he says. And all this happens really fast: The cameras photograph about 1.5 million plants per hour, and eliminate all but about 300,000 or 400,000 of them.
Blue River currently owns its equipment and sells lettuce thinning as a service. "Instead of calling the contract labor, they call us," Heraud says. "Within an hour's time, we can be in the place that grows 60 percent of the lettuce for the U.S."
Tanimura & Antle, the largest lettuce grower in the United States, helped them develop the machine and is now their biggest customer. Heraud says growers who use Blue River's implements are seeing their yields increase about 10 percent because its machines do a better job than people of selecting plants, and do less mechanical damage to the surviving lettuce.
Blue River hasn't decided directly where to go from here. The company could focus on weeding or thinning other crops, such as strawberries. Or it could work on more precise applications of fungicides and herbicides, to reduce chemical use. It's also looking at weeding technology for corn and soy crops that could curb so-called superweeds that are resistant to glyphosate, a widely used herbicide.
For now, Blue River is operating only in California and Arizona, where most lettuce consumed in the United States is grown, and it has no plans to export its technology. But Heraud says the company is just getting started.
"Lettuce is a learning bed for us," Heraud says. "This idea of smart implements is very powerful."
---
This article originally appeared on Future Food 2050.