When we think of the potential of harnessing biogas, the typical image that comes to mind is capturing methane from landfills or using industrial-sized anaerobic digesters to turn waste – everything from green bin organics to wastewater sludge to livestock manure – into a gas that can be burned for its heat or to produce clean electricity.
I am a member of and, until recently, sat on the board of the ZooShare Biogas Co-operative, which is building a digester unit at the Toronto Zoo that will turn zoo animal manure and organic waste from nearby grocery stores into biogas. That gas will be used to generate electricity for Ontario's power grid.
These are all great projects, but they are also big projects that require substantial investment and a consistent supply of waste material, which must sometimes be trucked in from long distances. On the other hand, I've long thought of the potential for smaller digesters that could be used, for example, by schools, hospitals, apartment and condo buildings, and even individual households.
Why not? If homeowners can install solar panels on the rooftops of their houses, why can't they have a micro biogas unit in their backyard? If, as consultancy Navigant Research says, "biogas remains a vastly underutilized resource," then shouldn't we look beyond landfills, wastewater treatment plants and big cattle farms?
The two young founders of Israeli startup HomeBioGas are doing exactly that. Yair Teller and Oshik Efrati have designed a backyard-sized biogas machine that turns organic kitchen waste, garden waste, and pet droppings into pressurized renewable gas, which can be hooked up to a gas barbeque or burned indoors for heat. The system, called TevaGas, also produces a clear organic liquid fertilizer than can be spread on gardens.
Instead of having waste shipped to a central location, the idea is to extract and use energy from organics at the source. The company claims that its TevaGas units are capable of generating enough gas to cook three meals daily, assuming ideal conditions where all household organics and pet waste are put into the system.
"We are addressing two markets segments," said Ami Amir, the company's head of marketing and business development. "Underserved, off-the-grid, urban and rural communities, and more affluent environmentally conscious and aware homeowners."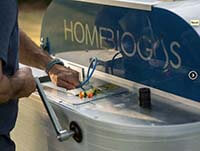 The unit comes with a built-in food shredder and can be connected to a garden hose, allowing for easy washing off of plates. There is also a crank to allow for manual mixing, a hydroponic biofilter to reduce odors, and a chlorine filter to neutralize pathogens in the fertilizer that is produced.
It's estimated that 2.7 billion people worldwide live in communities considered "off-grid" and without access to clean energy or proper garbage disposal services.
Not all of them can benefit from these small biogas systems, however. Amir said the outdoor units are designed to work in warm climates, meaning they become less effective as temperatures outside begin to drop. "In field trials, we found that after an acclimatization period, bacteria still produce gas, albeit at a lower rate, at an average ambient of 10 degrees to 15 degrees C," he said.
In other words, they might work great during a Canadian summer – beyond that, not so much. The market for such a product in southern U.S. markets, on the other hand, would appear ripe. And it goes without saying that the closer one gets to the equator the more sense it makes, both practically and economically, to purchase a system.
The Caribbean is an ideal example. The government of the Dominican Republic recently purchased 50 TevaGas units as part of an island pilot project. The aim is to tackle the problem of waste management in small villages, while at the same time reducing deforestation. It turns out villagers are increasingly cutting down trees for wood heating. Converting food waste into gas on site is expected to take pressure off island forests.
If the pilot project proves successful, the island has plans to purchase more units as part of a larger island program.
HomeBioGas also has a larger system called SymbioGas that's being targeted at hotels, industrial kitchens, hospitals and army bases. Alternatively, multiple TevaGas units can be installed side-by-side and scaled up or down based on the supply of organic waste.
Both products are shipping, and the company is currently growing its network of international distributors. As for cost, test units in Israel can be purchased for $2,000 each, but are likely to cost north of $3,000 once the product becomes more widely available.