Hero: Kellogg's
Back in 1950s post-war America, the so-called cereal wars raged between companies working to entice customers with prizes and catchy jingles. One particularly outlandish scheme by Quaker, the Klondike Big Inch Land Promotion, even enclosed a land deed for a minuscule portion of Canada's Yukon Territory in each box of cereal. The landscape has shifted considerably since then, with companies now vying for consumers by demonstrating their resolve to produce the most sustainable cereal on the market.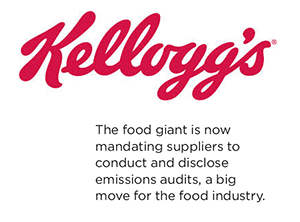 Kellogg's, the Michigan, Detroit-based multinational food manufacturer, announced in August a series of wide-ranging targets around responsible sourcing and natural resource conservation. The most substantive move is to set a carbon reduction goal across its integrated supply chain by 2015, to be accomplished by mandating that suppliers conduct and disclose their own emissions audits. All data will be reported to the Carbon Disclosure Project.
The announcement places Kellogg's in elite company as one of a handful of corporations that are beginning to integrate GHG emissions reporting from their main suppliers into yearly disclosure statements. The company has also set carbon reduction targets to support the effort to keep global temperatures from rising more than two degrees Celsius. "We recognize that upstream agricultural emissions are the single largest source of emissions in our value chain and will focus our efforts on achieving agricultural emissions reductions," the company said in a statement.
The move by Kellogg's overshadowed a similar announcement from rival General Mills a few weeks prior. While General Mills also promised a significant emissions reduction, it stopped short of requiring carbon audits throughout the supply chain. Both companies had been targeted by Oxfam International's Behind the Brands campaign. Oxfam has used the results of a report it commissioned earlier this year to pressure multinational food corporations into lessening their environmental footprint, improving disclosure practices and strengthening human rights policies.
"Kellogg's new commitments add momentum to calls on governments and the wider food and agriculture industry to recognize that climate change is real, it's happening now, and we need to tackle it," said Monique van Zijl, campaign manager for Behind the Brands. Both companies have also agreed to join BICEP (Business for Innovative Climate and Energy Policy), a coalition of businesses advocating for comprehensive energy and climate legislation.
Zero: Freedom Industries
Freedom Industries, the West Virginia-based company behind the massive 2014 Elk River chemical spill, reached a preliminary agreement in July regarding a class-action lawsuit representing aggrieved residents and businesses. Over 10,000 gallons of crude MCHM spilled into the Kanawha River on January 10, forcing local officials to temporarily cut off water supplies for 300,000 West Virginians. MCHM is chemical foam used to wash coal after extraction. The company declared bankruptcy a week later, a process still underway.
Anthony Majestro, an attorney representing several plaintiffs, told the Wall Street Journal that the low figure was settled upon due to the dire financial straits at Freedom Industries itself. "The reason we reached this settlement is because Freedom's limited assets wouldn't allow any real compensation to anyone," said Majestro. He explained that the settlement does not include individual payments to individuals, but that it will eventually be used for "the greater good." This may include everything from increased water tests to public education campaigns. If the payments had been split up for each of the 300,000 or so affected residents, they would have amounted to less than $10 a person. The money being devoted to the settlement is not coming directly from Freedom Industries, but rather from a $2.9 million insurance payment that Freedom Industries recently received from AIG Specialty related to the spill.
One condition of the agreement is that any subsequent cleanup costs incurred by Freedom Industries do not exceed $850,000. This is likely to clash with an August request by the State of West Virginia for the bankruptcy judge to approve $1.8 million in compensation claims for costs incurred by the state during the spill. Freedom Industries was also fined $11,000 by the Department of Labor in July for maintaining unsafe working conditions in the months leading up to the accident.
The ongoing struggle to gain any meaningful compensation from Freedom Industries has been hampered by the declaration of bankruptcy and subsequent freezing of assets. It's a tactic that has been used repeatedly in recent years to preempt litigation around environmental compensation, most recently in Tennessee. In 2010, the Arrowhead Landfill in Perry County, Alabama, declared bankruptcy to avoid a series of lawsuits around its improper storage of coal ash that was blowing into neighbouring communities.
Click here to view our complete Heroes and Zeros series.