Imagine a world where consumers have access to affordable, locally grown plant-based foods every day. Where we navigate crowded city streets on smaller, nimbler electric vehicles and every truck runs on zero-emission fuel. A world without unnecessary disposable plastic, where cities harvest heat from the earth, and where waste from food, farms and landfills is up-cycled into clean-burning biogas.
Sounds like a climate activist's wish list. But a group of dynamic young Canadian companies are already working on making these solutions an everyday reality.
This is the Future 50, Corporate Knights' second annual ranking of ambitious entrepreneurs who are trying to solve big problems in climate, energy, the environment, transportation, healthcare, waste disposal – even the Canadian diet. In an economy where legacy suppliers have been slow – or outright reluctant – to create significantly greener products and systems, entrepreneurs like these are forcing the issue, taking huge risks to develop greener batteries, smarter buildings, less toxic energy sources and climate-friendly business models.
Covering both public and private companies, most of them recent start-ups, the Future 50 is a daring snapshot of the energy transition. It points not just to where Canadian businesses are making their mark in the climate emergency – but where additional attention and support are also needed.
Fair warning: not all these companies will become stock-market winners and role models. Innovation is a long road, and this list is based on two decidedly short-term metrics.
The Future 50 ranks 25 public companies based on their short-term revenue growth (the rise in 2021 sales over 2020) and private companies based on the capital they've raised. Disruptive start-ups need cash, and their ability to raise funds as needed can be a major indicator of success. So the ranking of private companies is based on the percentage difference between the amount of capital each company raised in its most recent funding round and the amount raised in its previous round.
This is an unusual business metric, as early-stage funding has little to do with long-term market success. But it helps us spot the sectors that are attracting smart money from savvy venture capitalists and institutional investors. Case in point: the no. 1 company on our private list is Evanesce Packaging Solutions, a Vancouver-based innovator in plant-based certified compostable packaging solutions (think straws, fast-food containers and institutional meal trays). Led by experienced financial executive Douglas Horne, a former member of B.C.'s Legislative Assembly, Evanesce raised $123,000 in start-up capital in 2018 – and a whopping $14 million in 2021.
That growth rate of 11,282% was twice that of the no. 2 company, Surrey, B.C.'s CheckSammy Technologies, which offers business customers proprietary systems for mastering their junk removal, recycling and waste-management challenges. CheckSammy raised $367,000 from investors in 2020, and two years later raised $20.3 million – a jump of 5,431%.
Topping the "public" list is Li-Cycle, which provides end-of-life recycling and resource recovery for lithium-ion batteries. Between 2020 and 2021, the Toronto-based company grew its sales from $1.05 million to $9.1 million – a gain of 766%.
Possibly even more remarkable are the three giant companies on the public list that achieved 2021 revenue numbers in the nine figures: Vancouver healthcare-services provider CloudMD Software ($102 million); Toronto plant-protein producer Global Food and Ingredients ($124 million); and Delta, B.C., greenhouse growers Village Farms International ($339 million). (While greenhouses aren't usually considered energy-efficient, Village Farms heats its Delta facilities with methane from local landfills.)
Together, these two lists point the way to an exciting new economy – and a changing future for Canada itself.
Fifteen of the Future 50 companies produce sustainable consumer and business products – including seven companies involved in plant-based foods and three building electric vehicles domestically. Fourteen firms offer sophisticated new specialty business-management services, such as Kontrol Technologies' smart-building controls and NorthStar Earth & Space, which uses space-based sensors to track the sustainability of earth and space resources.
Eleven firms supply complex systems and techniques that allow businesses to better manage their energy use and emissions, including ChargeLab's North American network of charging stations and FigBytes' software platform that helps organizations integrate sustainability, performance and reputation. Eight companies perform engineering or environmental services, such as Carbon Engineering's portfolio of carbon-capture systems.
And two firms offer innovative energy production and distribution systems: Hydrostor, which stores energy as compressed air in underground caverns, and Eavor Technologies, which harvests geothermal heat from the earth for commercial heating applications.
Perhaps most intriguingly, the Future 50 could signal a reordering of business leadership in Canada. Where 20th-century business centred on Montreal and Toronto, the Future 50 leans west. British Columbia – mainly, the Vancouver region – accounts for 21 companies on this year's Future 50. Ontario comes second with 15, while Quebec has 10, Alberta three and Nova Scotia one.
Not all these companies will be successes. Consider the Very Good Food Company, a Vancouver producer and distributor of plant-based burgers and other green groceries. Very Good appeared on last year's Future 50 and would have made this year's list, too, with 2021 sales of $12 million. Just last November, Very Good added 3,000 new distribution points in Canada and the U.S. But the company had prioritized growth over efficiency and profitability; it shut down in February, out of cash and out of time.
Business success doesn't come from avoiding setbacks but from managing them well.
New to the Future 50 this year, ElectraMeccanica, a B.C.-based manufacturer of sporty, one-person electric cars, recalled 429 of its three-wheel "Solo" models in February, due to both performance (occasional losses of power) and regulatory issues. Now CEO Susan Docherty is plotting to disrupt the four-wheel world: "We believe that major opportunities remain for an experienced maker of smaller, nimbler EVs with eye-catching design and personalized features."
If optimism rules the Future 50, it should be well placed. The energy transition is now one of the biggest megatrends in business. In January, BloombergNEF reported that global clean-energy investment hit US$1 trillion in 2022, matching, for the first time, industry's total investment in fossil fuels. The Canadian Venture Capital and Private Equity Association says that venture funds invested a record $1 billion in cleantech last year, up 52% from 2021. And now, the 2023 federal budget promises $20 billion in new funding for clean power and green infrastructure.
Capital is out there. As this list proves, the opportunities are boundless. The future of the Future 50 is the future of Canada.
Alberta Innovates is the launch partner for the Future 50.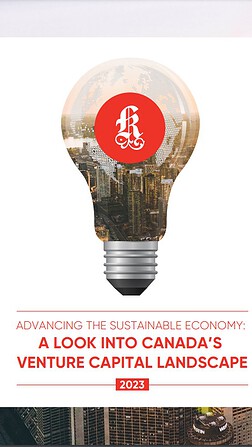 Top 25 fastest-growing publicly traded companies
1
Li-Cycle
growth rate*: 766%
In March, Prime Minister Justin Trudeau toured a recycling plant in Kingston, Ontario, with the president of the European Commission, Ursula von der Leyen. The attraction? They watched lithium-ion batteries of all types and sizes get shredded apart so their scarce, critical materials – especially lithium, nickel and cobalt – can be reused.
The "Kingston Spoke" plant was the first commercial facility of Toronto-based Li-Cycle, whose goal is to make lithium battery production "circular and sustainable" – and 95% efficient. Founded in 2016 by CEO Ajay Kochhar and executive chair Tim Johnston, Li-Cycle now has four plants in North America and will open two more this year, in Germany and Norway. The key output of these facilities is a mix of materials that will be sent to a large plant under construction in Rochester, New York, where they will be used to produce battery-grade materials, recycling the shredded equivalent of 90,000 tonnes of lithium-ion batteries a year.
Like Trudeau and von der Leyen, investors also love Li-Cycle. Through seven rounds of financing – counting a US$375-million loan commitment in March from the U.S. Energy Department – Li-Cycle has now raised more than US$1 billion to fund its vision of a green energy future.
2
CloudMD Software & Services
GROWTH RATE*: 581%
To address problems such as Canada's aging population, chronic disease, absenteeism and mental health, Vancouver-based CloudMD has created a health management platform for businesses and governments that supports integrated, high-quality, personalized healthcare. The company's main product, an employer well-being program called Kii, provides services from telemedicine and occupational health to vision care, mental-health coaching and even caregiving advice. Clients – who include companies like Sun Life, Sanofi, Scotiabank and Unilever – say CloudMD's services save them money and time while improving employees' health outcomes and encouraging reluctant patients to seek out needed treatments.
3
Steer Technologies
GROWTH RATE*: 831%
Toronto-based Steer began as a ride-hailing business, but it's evolved into a diversified transportation innovator. Its electric vehicle subscription service lets individuals rent Teslas and electrically powered Jaguars and Jeeps month-to-month. Steer also provides environmentally friendly business services, such as restaurant supply and food delivery and third-party delivery in cities from Edmonton to Halifax. The company stumbled, however, after winning a $2.5-million Ontario contract to develop a contact-tracing device during the COVID-19 pandemic. News reports indicated Steer had bought cheap bracelet devices from China. In April, the Ontario Securities Commission accused the firm of issuing misleading press releases regarding its TraceSCAN devices.
Growth rate: 485%
Hamilton-based Reliq develops remote patient monitoring and telemedicine solutions – enabling patients to access medical services when needed, without taking up costly hospital beds. Reliq's wearable iUGO device helps patients monitor their own health and can notify a wearer's care team if their condition suddenly changes. A major focus for Reliq is the southern U.S., where high numbers of retirees can benefit from its services. In April alone, the company signed contracts with physicians and health agencies in Texas, Nevada, Arkansas and California that could bring 5,000 new patients a month to its iUGO platform.
Growth rate: 367%
Cooling and heating buildings accounts for 28% of global greenhouse gas emissions, according to the World Green Building Council, which means homes, offices and factories will need massive makeovers to meet the 2050 net-zero goal. Vaughan, Ontario–based Kontrol Technologies uses the internet of things and cloud-based technologies to turn any structure into a "smart" building that monitors its own operations and continually adjusts its energy use. Kontrol offers three key services: energy management, installation of complex HVAC systems and emission compliance.
Growth rate: 328%
Hot water down the drain is a waste of energy. Worse, many cities drain wastewater directly to the sea, speeding up ocean warming. Sharc International of Port Coquitlam, B.C., develops patented technology for capturing warmth from wastewater to heat buildings and water systems. Its Sharc product, used for industrial buildings and energy districts, and its Piranha model, for offices and apartment buildings, produce heat for 20% of conventional heating costs. As buildings face ever-tighter energy regulations, CEO Lynn Mueller says that "there's a six-inch hole in the basement where half of the energy used in the building flows out every day. And Sharc is the only company doing anything about it."
Growth rate: 315%
Styling itself "the digital face of the plant-based community," Vancouver-based PlantX is a blooming conglomerate, with several online platforms, restaurants, storefront retail outlets (located in B.C., Toronto's Yorkdale Mall and Venice, California, to name a few) and local and nationwide delivery services. Its inventory includes groceries, cosmetics, pet foods and indoor plants. Last year, PlantX acquired e-commerce website VeganEssentials, which calls itself "the longest-operating cruelty-free retailer in the U.S." Company sales have softened this year as it refocuses on profitable growth, CEO Lorne Rapkin reports, but he foresees a big boost from the expansion of its XMarket vegan food hall in Chicago.
Growth rate: 267%
When Jim Henson sang "It's not easy being green," he might have been talking about Burnaby, B.C.–based ElectraMeccanica Vehicles. EM has produced a custom "mobility solution" for urban commuting, a one-seat, three-wheel electric vehicle called Solo. But supply chain problems slowed production at its Chinese plant last year, and in February EM recalled all 429 of its Chinese Solos for "unexpected loss of propulsion." The good news: EM just commissioned a new 235,000-square-foot plant in Mesa, Arizona, where it will build a line of electric off-road vehicles for Volcon ePowersports while designing a four-wheel replacement for the ill-fated Solo.
Growth rate: 266%
With its growing line of compostable food packaging, Vancouver-based Good Natured Products reports it has displaced 31 million pounds of petroleum-based plastics since 2006. Good Nature uses renewable, plant-based materials (without harmful chemicals) to make products such as takeout packaging, stretch wrap, egg crates and transparent clamshells for fruits and veggies. With $100 million in sales, the company is constantly innovating; its most recent products include tamper-evident clamshells, plant-based bins for your kitchen garbage and a new line of "Good to Go" containers, the first high-clarity food packaging that is both microwaveable and certified by the Compost Manufacturing Alliance.
Growth rate: 161%
 Burnaby, B.C.–based Loop Energy designs and manufactures hydrogen fuel cell systems, whose light weight and power density may make them a better fit over electric batteries to green heavyweight trucks and buses. Loop's multi-patented eFlow technology reduces fuel consumption by 16% compared to existing fuel cells while supplying 90% more peak power. By 2030, Loop estimates its market will be worth $70 billion. While the company continues to win industry awards, sales growth has slowed, and the firm notes that its plans to raise more growth capital may not be possible before 2024.
Growth rate: 146%
One of the oldest companies on the Future 50, Greenlane has been building biogas upgrading systems since 1986. These systems produce renewable natural gas (RNG) from organic waste sources such as landfills, wastewater treatment plants, dairy farms and food waste – reducing emissions from them while creating a transportation fuel without producing any incremental carbon (although there have been questions about how green RNG actually is). With more than 140 systems in 19 countries, Burnaby, B.C.–based Greenlane is now exploring a new growth strategy: investing in its clients' biogas projects globally to expand the industry, sell more systems and create recurring income.
Growth rate: 145%
After 50 years of building school buses, Quebec-based Corbeil Bus Corp. closed its doors in 2007. But two Corbeil executives, Marc Bédard and Camile Chartrand, jumped into the driver's seat, launching the company that would become Lion Electric in 2008 to leverage Quebec's expertise in making school buses. In 2017, the company committed to building all-electric medium- and heavy-duty buses. Today, its 1,400 employees produce four bus models, primarily in Saint-Jérôme, Quebec. But Lion is also establishing operations in Joliet, Illinois, to meet demand for "made in America" vehicles. Recently, the company worked on a pilot project that would see P.E.I.'s 82 Lion school buses use bidirectional chargers to supply electricity to community relief centres in case of power outages.
Growth rate: 134%
Planting Hope is a women-managed and -led company in Vancouver that develops plant-based foods and drinks. Its brands include Hope and Sesame sesame milk, Mozaics Real Veggie Chips, Veggicopia veggie snacks and RightRice, a medley of rice, lentils, chickpeas and peas that offers double the protein of white rice and five times the fibre. And the company sells its products through large retailers such as Kroger, Loblaws, Whole Foods, Amazon and Walmart. With research indicating that 50% of consumers identify as "flexitarian," Planting Hope is hoping to grow sales by a factor of five.
Growth rate: 126%
Founded in 2008 in Aldergrove, B.C., to provide mid-sized buses mainly to Canadian transit systems, Vicinity has been selling some electric vehicles since 2018. The company is set to ramp up the percentage of vehicles it sells that are electric to take advantage of new subsidies for green transportation in Canada and the U.S. EVs accounted for 20% of Vicinity's vehicle sales in 2022, but this year they're expected to reach 80%. Last year, Vicinity started delivering its VMC 1200, the first electric Class 3 commercial transport truck. With a US$150-million order backlog, the company will soon begin production at its new U.S. plant, just across the border in Ferndale, Washington.
Growth rate: 103%
From telecom towers in rural Rwanda and Peru to an electrical transmission barge in Delaware Bay, Clear Blue Technologies supplies what it says are "smart," off-grid power solutions to businesses, communities and governments. Clear Blue's secret sauce is its Illumience Cloud Control system, which allows remote monitoring of all components and reduces the costs of extending lighting, power and telecom services to remote communities. With this system, Clear Blue says its 62 telecom transmission sites built in the Marshall Islands three years ago have required no maintenance visits. The company expects to benefit from future growth in off-grid power systems, driven by the internet of things and increased global demand for connectivity.
Growth rate: 102%
Toronto-based, with a network of 500 farmers and four processing plants in Western Canada, Global Food and Ingredients is building a "farm to fork" producer of what it says are traceable, sustainable and plant-based food and dog-food products shipped to 37 countries. Its packaged brands include Bentilia (gluten-free pasta) and a line of ready-to-eat meals called Five Peas in Love. As CEO David Hanna notes, peas and lentils are among the most affordable protein sources, and their cultivation boosts soil health, reducing the need for chemical fertilizers.
Growth rate: 75%
PyroGenesis Canada has evolved from a Montreal-based engineering firm into a provider of high-tech solutions to heavy industry. The company uses its expertise in ultra-high-temperature industrial processes to help clients reduce carbon emissions. For instance, the company's powerful, zero-emission plasma torches are being tested as replacements for the diesel or natural gas furnaces traditionally used to produce iron ore pellets and aluminum. PyroGenesis now focuses on three key categories: emissions reduction, recovery of metals and critical minerals from industrial waste, and waste remediation, including the safe destruction of hazardous materials.
Growth rate: 70%
"We inspire consumers to eat pure, natural healthy and tasty organic food, whenever, wherever." That's the goal of Vancouver's Organto Foods, which processes and sells fresh organic and non-GMO fruit and vegetable products to customers in 18 European countries. Suppliers are located around the globe, so Organto can supply fresh food year-round while minimizing its carbon footprint. The company's goal is to build a trusted brand in a fragmented marketplace: each product in its "I AM Organic" family comes with a QR code that links to a story that explains where that product came from, how it was grown and how it got into consumers' hands.
Growth rate: 56%
Since Village Farms started growing tomatoes, bell peppers and cucumbers in a greenhouse 35 years ago in the Lower Mainland region of B.C., it has built an expertise in sustainable food production. The company has looked to reduce water use, use beneficial insects to control pests, recycle carbon dioxide to encourage plant growth, and capture methane from a local landfill to create heat and electricity. Now the company is focusing on indoor innovation in three key sectors: vertically integrated greenhouse grower Village Farms Fresh, responsible cannabis grower Pure Sunfarms, and Balanced Health Botanicals, which produces sleep aids, CBD gummies and other health products derived from hemp.
Growth rate: 45%
2022 was a big year for Vision Marine Technologies, of Boisbriand, Quebec. In February it turned heads at the Miami International Boat Show, which for the first time devoted a special pavilion to electric boats – battery-powered vessels that promise quieter rides, no exhaust and zero pollution. In August, a 32-foot catamaran powered by two of the firm's E-Motion electric engines became the first electric boat to break the 100-mile-per-hour barrier. It was sweet payoff for two decades of R&D, designed to position electric motors as the future of boating. Vision is now building a network of rental fleets in ports around North America, to complement a marina it bought in 2017 in Newport Beach, California.
Growth rate: 37%
Guru Organic Energy has been making energy drinks since 1999, distinguishing itself from category leaders like Red Bull and Monster by focusing on natural ingredients. A 2015 U.S. survey found that 64% of millennials consume energy drinks – but 74% of them worry about the safety of those caffeine drinks with all their artificial sweeteners. Guru's products are plant-based and certified organic, focusing on natural caffeine sources such as guarana beans, matcha and green tea, along with healthy doses of ginseng, echinacea and monkfruit. Noting that its first product was developed for clients of Montreal nightclubs, Guru now says that "we spend less time partying and more time outside reconnecting with nature."
Growth rate: 35%
Miners around the world are looking for better, safer ways to extract gold from low-grade mineral concentrates and mine tailings. Enter Dundee Sustainable Technologies, a Montreal-based company owned by Toronto mining investment firm Dundee Corp. DST's mandate is to commercialize two promising extraction technologies: CLEVR, a cyanide-free extraction process that uses sodium hypochlorite in acidic conditions to put the gold into solution; and GlassLock, a process that sequesters the toxic arsenic often associated with copper, gold and silver deposits. The company is testing the latter process as part of a $4-billion project to clean up highly toxic arsenic dust left behind at the Giant goldmine in Yellowknife.
Growth rate: 34%
As more solar- and wind-power projects feed into our electrical grids, utilities find it harder to deliver stable voltages. Fluctuating power can reduce the efficiency of HVAC and other building systems, raising building owners' costs and shortening their systems' operating lives. Legend Power Systems of Burnaby, B.C., has a solution: an energy management system, SmartGATE, that monitors electrical system performance and manages power-grid volatility. Result: lower costs, fewer repairs and happier residents/employees. In April, Legend reported that its latest SmartGATE platform reduces building energy bills by 6% and saves clients $2 in maintenance and repair for every dollar of energy savings.
Growth rate: 32%
Burlington, Ontario–based EcoSynthetix produces renewable, bio-based manufacturing materials that replace products containing harmful chemicals – at competitive prices. Its flagship products are EcoSphere biolatex, which supplants petroleum-based styrene butadiene in the paperboard packaging sector, and DuraBind biopolymers, which replace formaldehyde binders in the production of wood composite panels. The company believes the shift from fossil-fuel-based products to green alternatives is now inevitable, and it aims to become a global leader in the development of bio-based materials. EcoSynthetix recently received a platinum designation from ratings agency EcoVadis for its contribution to the sustainability of global supply chains.
Growth rate: 25%
This may be the simplest company on the Future 50. Based in Airdrie, Alberta, just north of Calgary, Vitreous Glass collects and crushes waste glass, and then sells the resulting "cullet," called GlasSand, to three Alberta companies that use it to make fibreglass insulation. According to one investment report on the firm, Vitreous's major clients are Johns Manville Canada, in nearby Innisfail, and Owens Corning Canada, in Edmonton. The report noted that the company's quick access to both locations constitutes a simple but effective "moat" that shields Vitreous from other competitors.
Top 25 fastest-growing private companies
1
Evanesce Packaging Solutions
GROWTH RATE: 11,282%
Over six years as a Liberal MLA for Coquitlam, B.C., former financial executive Douglas Horne became fascinated by sustainable products. After his political career expired (he lost a federal race in 2015), Horne acquired the rights to a technology to produce moulded food trays from vegetable starch and fibre and founded Evanesce. The product looks like Styrofoam, but it decomposes within 90 days. "A circular economy starts with soil," says Horne. "Our motto is 'Dirt to dirt.'" A much healthier outcome than recycling programs that rarely rescue more than 15% of consumer plastics.
After years of development and three patents, Evanesce is now bringing its products to market in the form of food trays, foam cups and other staples of fast food and food service. Meanwhile, the company has shared technologies with Taiwan-based Minima, which produces cups, plates, cutlery and drinking straws that feel like plastic – but are made from fully compostable, upcycled plant-based biopolymers. Last year, Evanesce sold $3-million worth of straws to clients such as AMC Theatres; Washington, D.C.–based Compass Coffee; and Colorado-based Eco-Products – and the firm now is talking to McDonald's about a deal for 2.5 billion straws.
While Evanesce's starch products cost about 30% more than comparable foam, Horne notes they're "half the price of anything else that's certified compostable. You have to factor in the end-of-life costs."
2
CheckSammy Technologies
GROWTH RATE: 5,431%
CheckSammy is a waste removal company headquartered in Surrey, B.C., that specializes in recycling solutions for businesses, cities and institutions (such as airports, schools and hospitals) across North America. Its track-and-trace systems give clients a "chain of custody report" for all their waste, complete with date and time stamps. When a peanut butter company recalled 65 tons of its product, it enlisted CheckSammy to keep almost 60,000 kilograms of peanut butter out of landfills. The firm found a buyer for the jar lids – which had never touched the contaminated product – and it shipped the peanut butter to an anaerobic digester that converted that waste to biogas, creating low-cost community energy.
3
Green Matters Technologies
GROWTH RATE: 3,688%
Based in Langley, B.C., Green Matters Technologies develops technologies that it says are both environmentally sustainable and commercially viable. Its CE-K500 industrial heat-recovery system can heat spaces or domestic hot water using waste heat from multiple sources, such as water-chiller cooling loops, ambient air or low-temperature boilers. One early client, a Marriott hotel in Puerto Rico, says the system has cut its energy costs by more than $120,000 a year and reduced net CO2 emissions by 75%. Green Matters' key target markets include hotels, sports venues, healthcare facilities and multi-storey buildings around the world – with a preference for tropical regions where air conditioning runs 24/7.
Growth Rate: 3,447%
Hydrostor claims to be the world's leading developer of advanced compressed-air energy-storage projects. Such projects green the energy grid by storing energy from intermittent sources, such as wind and solar, in underground caverns as compressed air – enabling direct replacement of fossil-fuel-based energy sources. Toronto-based Hydrostor is now developing projects in Canada, the U.S., the U.K. and Australia, aggregating 1,200 megawatts. In January, Hydrostor signed a 25-year contract with California non-profit Central Coast Community Energy to supply stored energy from its Willow Rock Energy Storage Center, now under construction northeast of Los Angeles. Over the next decade, Hydrostor estimates that the global market for long-duration, grid-scale energy storage will reach 140 gigawatts.
Growth Rate: 3,293%
Toronto-based MacCormick Inc., doing business as The S Factor Co., is a data and analytics firm that provides social risk ratings and investment solutions, mainly for companies in the global mining industry. Its February 2022 report analyzing four case studies identified a direct link between companies' material social performance (the "S" in ESG) and positive financial outcomes. Operating companies, asset managers and investors all follow The S Factor Co.'s rankings closely. Mark Moody-Stuart, chair of the Global Compact Foundation, has called S Factor's social-performance data "the most comprehensive and systematic rating system the sector has ever seen."
Growth Rate: 1,581%
Founded in 2012, e-Zinc explains itself in four words: "Storing electricity in metal." The company (whose official name is e-Zn) has developed an electrochemical technology for storing energy in zinc metal – a low-cost energy solution of long duration (meaning up to several days) to provide renewable energy in remote locations and harsh environments, even at night or in bad weather. Its technology uses battery-like electrochemical cells in which zinc has been dissolved in a liquid electrolyte. It's an advance on similar systems that use lithium, since zinc is more abundant and easier to recycle. Its investors include Toyota Ventures, Bioindustrial Innovation Canada, Graphite Ventures and Anzu Partners.
Growth Rate: 1,329%
Oneka Technologies of Sherbrooke, Quebec, is developing a "freshwater as a service" business model for coastal regions lacking drinking water. Its floating desalination buoys use offshore wave action to power the water-filtration process and pump drinking water onshore. In March, Oneka announced a $14-million "utility-scale" project off Cape Sable Island, in southeast Nova Scotia, in conjunction with Canada's Ocean Supercluster. "This sustainable source of water will make coastal populations and industries across the globe, including the Barrington Municipality in Nova Scotia, more resilient to impacts of climate change," said Oneka CEO Dragan Tutic.
Growth Rate: 1,205%
The commercial real estate industry is responsible for 20% of global greenhouse gas emissions. And according to Victoria-based Audette Analytics, the sector "is far behind on the road to decarbonization." Audette helps building owners get started on their journey to green. Its AI-based management platform enables clients to monitor their buildings' equipment data and utility use, compare decarbonization approaches, and then track and verify their efficiency gains. The company's target markets include multi-unit property owners (such as pension funds) looking to green their real estate portfolios and city managers planning decarbonization initiatives.
Growth Rate: 1,024%
Production of cement, which is mainly used to bind mixtures of sand, gravel and stone into durable concrete, accounts for 8% of total global CO2 emissions. Montreal-based CarbiCrete is commercializing a process developed at McGill University for making cheaper, cleaner concrete. It replaces cement with steel slag, a by-product of steelmaking. As this process involves injecting CO2 into the hardening concrete, CarbiCrete says its solution is actually carbon-negative. It hopes to sell its process, materials and support services to concrete manufacturers in Ontario, Quebec and Europe. CarbiCrete says every tonne of concrete produced its way removes 150 kilograms of CO2 from the atmosphere.
Growth Rate: 985% 
Hydrogen Technology & Energy's mission is to hasten the green transition by building out hydrogen production and distribution infrastructure. In 2013, the Vancouver-based company built the world's first hydrogen station, serving fuel cell buses in Whistler, B.C.; five years later it opened Canada's first retail Shell hydrogen station for cars and trucks near Vancouver International Airport. Today, HTEC operates more than 17 hydrogen stations in North America, and it's developing electrolysis facilities across Canada to supply hydrogen to its network and third-party clients. The company also leases hydrogen-powered trucks to fleet operators and advises transit systems on switching to the fuel.
Growth Rate: 682%
Mangrove Lithium (formerly Mangrove Water Technologies) spun out of a five-year University of British Columbia research project on converting industrial waste – specifically, brines made of gases and high-salinity wastewater – into desalinated water and valuable chemicals. Mangrove now focuses on converting raw lithium found in brines, hard rocks or clay into lithium hydroxide, enabling efficient production of battery-grade lithium close to the point of extraction. Mangrove's tech also provides more efficient recycling of lithium batteries. Its investors include BMW i Ventures, the Business Development Bank of Canada, National Research Council Canada, Emission Reductions Alberta and Breakthrough Energy.
Growth Rate: 584%
Squamish, B.C.–based Carbon Engineering plans to capture carbon dioxide directly from the atmosphere at industrial scale. Direct air capture (DAC) creates opportunities for hard-to-decarbonize industries to offset their emissions. In 2015, CE's pilot plant in Squamish, B.C., proved it could capture one tonne of atmospheric CO2 per day; two years later, the plant converted waste CO2 into low-carbon liquid fuel. In May, after years of testing, CE and partner Occidental Petroleum finally broke ground on a commercial-scale DAC plant in Ector County, Texas. The plant will capture up to 500,000 tonnes of CO2 a year.
Growth Rate: 525%
Ionomr Innovations develops ion-exchange membranes that improve the economics of hydrogen production, water treatment and grid-level energy storage. The quality of ion-exchange membranes is crucial to the efficiency of electrochemical processes such as fuel cells and electrolyzers (used to create green hydrogen). Vancouver-based Ionomr markets two game-changing membrane systems: Aemion, for water purification and clean energy generation; and Pemion, a proton-exchange membrane that reduces the cost of hydrogen fuel cells through less use of precious metals and a longer operating life. The company says its systems help green energy companies "accelerate down the cost curve earlier than anticipated."
Growth Rate: 353%
Clir Renewables of Vancouver has developed a data and analysis platform that allows the owners of wind- and solar-energy farms to continuously monitor and improve the performance of their sensitive, expensive equipment. Clir draws on AI, machine learning and a database covering 200 gigawatts worth of production to help asset managers improve yields, better manage maintenance, and maximize their value when they buy or sell. CEO Gareth Brown, a former industry consultant, founded Clir based on his observations that turbine owners "don't actually understand the assets all that well" – and that some turbine vendors prefer to keep that knowledge to themselves.
Growth Rate: 342%
In a recent report, California-based Coherent Market Insights said the global market for sustainability and energy-management software is growing 11% a year. And in this burgeoning sector, the company named Ottawa's FigBytes as a key player, alongside such giants as IBM and Schneider Electric. Founded in 2009, FigBytes markets an online software platform that helps companies collect data and develop strategies based on their sustainability efforts in areas like climate accounting, water use, supplier transparency, ESG risk management, and philanthropy, diversity and inclusion. One client reports that with the FigBytes software, "we can spend less time tracking data and more time reducing our environmental impact."
Growth Rate: 337%
GHGSat believes that industrial polluters in coal mining, oil and gas, and other industries need to see their emissions before they can manage them. With a fleet of five satellites (and six more launching later this year), plus sensor-mounted airplanes and high-resolution detection equipment, the Montreal-based company helps clients monitor and manage their methane emissions site by site, to achieve their carbon-reduction goals. In May, Fast Company named GHGSat's platform the top World Changing Idea in the climate category. "We want to get to the point where we're monitoring every single facility in the world on just about a daily basis," CEO Stephane Germain told Fast Company.
Growth Rate: 310%
As electric vehicle use grows, more local government policies will require developers and building operators to provide access to EV charging. But few buildings can handle the surge in electricity demand when everyone wants to charge their vehicles at once – especially at dinnertime. Toronto-based SWTCH Energy has a solution: its load-management software controls buildings' energy use and allocates charging to lower-demand times – increasing the property's charging capacity by up to 10 times and saving the buildings' owners millions of dollars in upgrades. SWTCH's software gives building managers insight into and control over their charging systems, including access controls, customizable rate structures and driver billing.
Growth Rate: 288%
Calgary-based Eavor Technologies has a vision: "Local clean energy autonomy, at scale, everywhere." Its Eavor-Loop system harnesses nearly limitless geothermal heat from 4,500 metres underground to power commercial heating applications. Eavor's proprietary technology consists of two vertical wells that circulate a fluid (much like a car's radiator fluid) through a closed-loop pipe; the fluid picks up thermal energy underground, conducts it to the surface, and then goes down for more. Eavor says a single Eavor-Loop installation can generate industrial-scale electricity, or enough heat to serve 16,000 homes. Its first commercial system is now under construction in Geretsried, Germany.
Growth Rate: 281%
Phosphorus is a key crop nutrient but a dwindling mineral resource. Vancouver-based Ostara solves two problems at once by cleaning up phosphates in municipal and industrial wastewater, using a treatment licensed from the University of British Columbia that processes that waste into fertilizer pellets. Ostara's unique fertilizer, Crystal Green, maximizes yield by slowly giving off nutrients in the presence of growing plants – reducing the common risks of leaching and runoff with conventional fertilizers. Treatment plants that install Ostara's nutrient-management system usually recoup their investment through savings in chemicals and maintenance costs – and possibly a share of Ostara's fertilizer sales.
Growth Rate: 277%
In April, Tesla boss Elon Musk called for more entrepreneurs to work on lithium extraction to overcome an extraction bottleneck holding back the EV revolution. The Financial Times countered by writing an article on Calgary geophysicist Amanda Hall, who founded Summit Nanotech in 2018 to use nanomaterials to extract lithium from brine water in days, rather than months. In January, Summit closed a $67-million funding round. "It really does allow us to accelerate our growth faster than we expected, which is super important because the customer demand for our technology is so high," Hall told the Calgary Herald.
Growth Rate: 261%
Four years ago, three Montreal entrepreneurs – developer Ramee Mossa, marketer Silvana Huaman and engineer Alexandre Cosneau – joined forces to build better motor controllers that give drones longer flight times. But when COVID-19 grounded everything, the partners realized their technology could improve motor efficiency in a bigger market: electric vehicles. Today FTEX designs and manufactures power-management and motor-control systems for light EVs – scooters, e-bikes and motorcycles. Using new gallium nitride semiconductors (in place of silicon) enables FTEX to use smaller and more efficient components, extending its vehicles' range by up to 30% on a single charge. Next step: electric cars.
Growth Rate: 260%
Toronto lawyer Laura Zizzo bleeds green. First she started Toronto's first climate-centric law firm: Zizzo Allan Climate Law LLP. Then she launched a climate consulting firm, which she later turned into tech startup Manifest Climate. Its software platform uses AI and deep industry knowledge to assess companies' risks and opportunities in managing climate change. Manifest helps clients like Bell, Teck Resources and Manulife deal with disclosure, industry benchmarking, opportunity identification, climate scenario analysis and best practices. "We help our clients understand how to talk about this, how to track climate-related business trends," Zizzo says in a company video. "We help them organize their information and stay on top of what's really important."
Growth Rate: 254%
Toronto-based ChargeLab calls itself "the operating system for EV chargers." Besides developing charging stations, it's created a management software platform that enables fleets, charger manufacturers and owners of charging networks to connect, control and monetize their charging stations. Among its clients are Ford, Hilton and Mobil. In April, ChargeLab announced a US$15-million top-up to its 2022 Series A funding round, bringing that total to US$30 million. In the deal, ChargeLab welcomed two new strategic investors: charging network operator Silver Comet and power-management firm Eaton. "The EV charging industry remains nascent, making strategic partnerships essential for building a resilient ecosystem," said ChargeLab CEO Zak Lefevre in a press release.
Growth Rate: 248%
As more satellite operators hit the launchpad, space is running out of room. "The new space economy is on a collision course with debris and congestion," says Montreal-based NorthStar. "Current space monitoring systems cannot handle the traffic." The firm offers the first commercial service to monitor space from space, through its own satellites with dedicated optical sensors, to enable safer space-faring. Back on Earth, NorthStar is also developing a global environmental information platform to monitor issues such as deforestation, water supply and crop risk.
Growth Rate: 223%
Nearly a fourth of all produce ends up as waste, mainly due to bruises and other cosmetic shortcomings. If it rots in a landfill, it emits harmful methane gas that's 20 times more powerful than carbon dioxide. Founded in 2017, Halifax-based Outcast Foods is tackling this problem by rescuing food waste – such as bruised beets, misfit carrots or underripe bananas – and washing, chopping and grinding it into nutritious plant and protein powders. Outcast produces its own protein powder for sale at Sobey's and independent retailers and sells ingredients such as tomato, blueberry and sweet potato powders to make sustainable juices, snacks and pet foods for processors that include Wholly Veggie and Happy Planet. Tagline: "It's what's inside that counts."
How did we find the Future 50?
Corporate Knights used two different but complementary criteria to determine which companies made the Future 50. We drew from 4,513 publicly listed and 4,163 privately owned companies headquartered in Canada and determined the ones that earn most of their revenues from clean energy themes (including energy efficiency), according to the Corporate Knights Sustainable Economy Taxonomy. The public companies were then ranked according to their one-year revenue growth rates (2021 sales over 2020 sales). For privately held companies, we tapped the S&P Capital IQ database, with data on recent fundraising rounds, and sorted them based on the percentage growth of capital they raised from the two most recent years of fundraising rounds over the 2018 - 2023 period. This enabled us to identify qualifying companies that are still "pre-revenue" – giving us early access to new ventures. From this, we pulled out the top 25 private and 25 public companies that earn the majority of their revenue from sustainable sources to select our Future 50.