Are the globe's largest companies taking workplace safety seriously as a sustainability issue?
The data says they aren't, and this has many in the occupational health and safety profession concerned.
Corporate Knights Capital, in its recent report "Measuring Sustainability Disclosure," analyzed all seven so-called first-generation sustainability indicators and found that only 11 per cent of the world's 4,609 largest companies disclosed their worker injury rate in 2012.
It was the lowest disclosure rate of all seven indicators. By comparison, 39 per cent of companies disclosed their greenhouse-gas emissions and 59 per cent reported pay equity data.
For some industries, such as financial services, the low disclosure rate arguably makes sense. For example, only 2 per cent of the 382 largest banks reported workplace injury and fatality numbers in 2012. Of the world's 156 biggest insurance companies, 1 per cent reported fatality figures and 3 per cent disclosed injuries.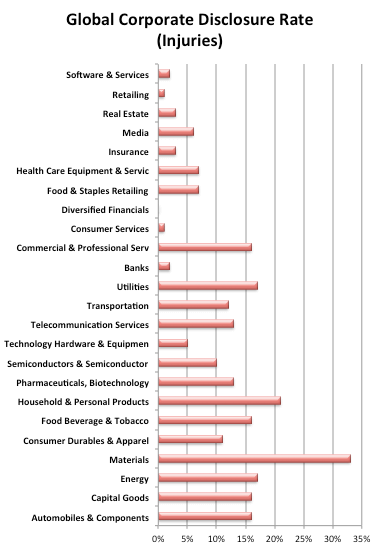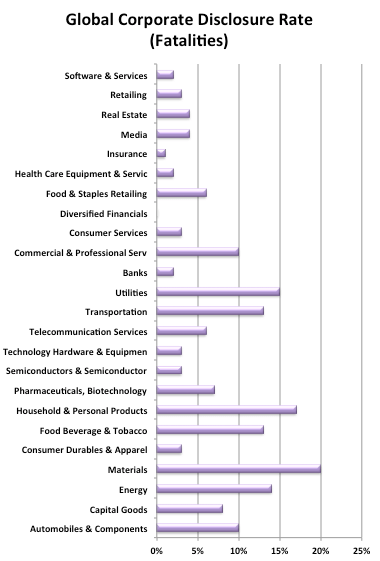 Industries related to manufacturing, construction and other higher-risk activities are better at reporting, but have a long way to go. Of 369 large energy companies, only 14 per cent disclosed workplace deaths while 17 per cent reported injuries. Automotive and capital goods companies didn't do much better.
"Human resources have become one of the most important productive assets in many industries, so it is quite disturbing that only a minority of companies are reporting on safety metrics at the workplace," said Michael Yow, lead analyst at Corporate Knights Capital. "That only 17 per cent of the world's oil and gas companies are reporting on worker safety is quite alarming, given they represent one of the most hazardous industries out there."
The best discloser was the materials industry, where 20 per cent of the 406 companies analyzed reported fatalities and 33 per cent reported injuries. Still far short of where industry needs to be on worker safety, experts say.
"It's amazing how often safety is left out of the sustainability discussion," said Jeff Thorne, a workplace safety consultant with Occupational Safety Group. "It's still a newer concept, believe it or not, to include safety as a performance indicator."
But as Tom Cecich, chair of the U.S.-based Center for Safety and Health Sustainability (CSHS) told Corporate Knights, "High profile, tragic global incidents have highlighted the need for better occupational health and safety transparency and reporting."
(Disclosure: CSHS is co-sponsor of this Workplace Safety web series).
Questionable Data
Indeed, poor disclosure isn't the only problem. The CSHS reviewed the corporate social responsibility, sustainability and annual reports from 100 companies that appeared on Corporate Knights' 2011 Global 100 ranking.
In a report it released in February 2013, the CSHS revealed a "high variability in terms and definitions" used by companies that disclosed workplace safety metrics, making it difficult to compare company performance.
"Corporate transparency is not achieved simply by disclosing information," according to the report. "The information disclosed must also be meaningful."
Part of the problem, it concluded, was lack of clarity from sustainability reporting frameworks, most notably the widely used Global Reporting Initiative (GRI). For example, GRI only asks companies to provide information on "total workforce," but it doesn't define "worker," leaving it open to interpretation. Does it include contract workers? Temporary workers? What about workers further down the supply chain?
The report also found that 15 different methods were used to define a "report-worthy injury" or incident and six different formulas were used to calculate an overall injury rate. Companies were either ignoring GRI guidelines or being confused by them. In other words, the guidelines appeared to be ineffective.
It's no surprise that in 2012, when GRI began accepting public comment for its planned fourth-generation guidelines, the issue of occupational health and safety received the fourth-highest number of submissions. In response, the GRI decided to create a working group for workplace safety that would inform updated guidelines.
The goal was to improve clarity and transparency of workplace health and safety guidelines. Despite good intentions, not much has happened since. "As of October 2014 GRI has not started the workgroup due to funding issues," said Cecich.
The main reason CSHS produced its 2013 report was to offer insight for the multi-industry stakeholders expected to sit on the working group. The report's recommendations were clear:
Standardize terms and definitions to eliminate confusion and create a consistency of reported data that allows apples-to-apples comparisons within sectors and across geographies;
Encourage complete reporting of all leading indicators related to occupational health and safety, as well as reporting over multiple years to allow for internal and external stakeholders to gauge whether a company is improving or not;
Expand coverage beyond just company staff to include temporary workers and subcontractors, as well as workers in the supply chain, all of them "growing and highly vulnerable segments of the global workforce."
(This story is the fourth in a series of articles on workplace safety that will appear on corporateknights.com during October, in partnership with and with funding support from the Canadian Society of Safety Engineering and the Center for Safety and Health Sustainability. Visit our Workplace Safety landing page to follow the series.)