We come in contact with them every day of our lives. Wedged into wallets, they chronicle the highs and lows of our retail therapy, our mid-afternoon mocha binges and the daily tab for being human in a consumer economy. Turns out common thermal receipts also deliver a dose of estrogen-mimicking chemicals, which is thrusting the spotlight on the workers who handle them and the retailers that dole them out.
The results of an experiment released last week by Environmental Defence found that handling thermal receipts for around 15 minutes (the estimated time a cashier comes in contact with receipts over an eight-hour shift) caused significant spikes in urine  levels of hormone-disrupting Bisphenol A (BPA), as well as BPA's controversial replacement chemical, Bisphenol S (BPS). It all adds up to bad news for major Canadian retailers.
BPA was long the coating of choice for thermal receipts (the shiny kind that fade over time). But after Health Canada declared BPA officially toxic in 2010 (banning it from baby bottles but not tin can linings or receipts), forward-thinking retailers big and small, including Metro and the Big Carrot Community Market, quickly sought out BPA-free alternatives. In 2016, California mandated that any stores distributing BPA-laced products post signs warning customers that BPA is a known female reproductive toxin. By that point, a whole slew of national retailers, like Costco, opted to move away from the troubled hormone disruptor.
The problem is that most large retailers in North America adopted alternatives made with BPA's sister chemical, BPS. Headlines like "BPA Replacement Also Alters Hormones" started emerging in scientific mags several years ago, but by all indications, most companies were looking the other way. Compared to the large body of studies on BPA, investigations into BPS remain limited. However, a 2017 meta-analysis of nearly a decade of studies on the topic found that BPS is not only "ubiquitous in the environment" and in human urine, much like BPA, but that it "may have adverse effects on reproductive systems, endocrine systems, and nervous systems in animals and humans, and may trigger oxidative stress."
And yet BPS is now on 75 percent of the receipts we come in contact with, according to a 2018 study by the Michigan-based Ecology Center, which tested 207 paper receipts from major American grocers, big-box stores and retailers, as well as gas stations, movie theatres and libraries. BPA was found on 18 percent. Only two percent were uncoated.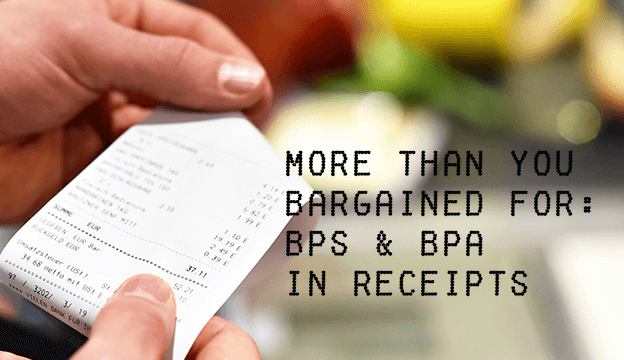 With more than 250,000 women in Canada working as cashiers and over 350,000 women working in retail, Environmental Defence is concerned that a significant proportion of women who come  in direct daily contact with receipts are of childbearing age and, according to its report, "may face unacceptable health risks because of exposure to BPA and BPS on the job."
The United Food and Commercial Workers union shares these concerns. "We've been guinea pigs for a long time, workers and consumers alike," says Mary Shaw, a health and safety representative with UFCW, "but for workers who are handling thousands of receipts a week, they're disproportionately exposed to these chemicals." Shaw says the union has been in talks with major grocers about switching to safer alternatives such as digital receipts or no receipt at all.
With pressure mounting around the globe, the humble paper receipt has become the latest litmus test for action on hormone-disrupting chemicals. The EU is officially banning the use of BPA in receipts by next year, and California is considering outlawing paper receipts altogether, pushing retailers to go digital by 2022.
Where is Canada in the midst of all this? Health Canada says it has "not concluded that BPA in thermal receipt paper is a significant source of exposure for the general population" and adds that "currently, there are no plans to ban the use of BPA and BPS on receipts." Environmental Defence's toxics  program manager, Muhannad Malas, says the Feds aren't talking about the health impacts to cashiers who deal with hundreds of receipts a day. "Clearly, Health Canada is neglecting the fact that workers like cashiers are the ones that are bearing the brunt of this issue." Malas calls it a "the perfect example of the failure of Canada's toxic chemical regulatory approach. They clearly haven't done anything to make sure that the replacements that come onto the market aren't hazardous."
Rick Smith, co-author of Slow Death by Rubber Duck: How the Toxicity of Everyday Life Affects Our Health, says it's not just a Canadian problem. "With the possible exception of the European Union, which is still struggling to get its new regulations right, virtually every government in the world is not adequately addressing this issue." Says Smith, "You have to conclude that the chemical industry is a potent lobbying force and that industry counts on this issue being out of sight and out of mind for most people, because the parameters of this issue are difficult for average consumers to see."
Smith, whose BPS levels spiked by 115 times when he participated in Environmental Defence's study for the 10th anniversary edition of Slow Death by Rubber Duck, says global regulators are still, by and large, using a whack-a-mole approach to deal with hazardous chemicals, sporadically tackling one at a time, and allowing alternatives on the market before being adequately vetted. Even the World Health Organization was warning world leaders to get a grip on hundreds of endocrine-disrupting chemicals back in 2012, calling them a "global threat" to fertility rates, diabetes and obesity levels, as well as hormone-related cancers.
While we wait for the federal government to consider more of a European approach, all eyes are on Canadian retailers. Says Malas, "Retailers need to choose how much they value worker health and worker safety. If they do value employee well-being then they need to choose safer alternatives that exist. We expect leading companies like Loblaw, Sobeys and Metro to be spearheading that."
CANADA'S LARGEST RETAILERS RESPOND:
WESTON GROUP (Loblaw, Real Canadian Superstore, No Frills, Shoppers Drug Mart): "We take the concerns raised by this new research seriously and have a long track record of taking action. In fact, we moved to the current receipt paper (BPA-free) a few years ago following conversations with our scientific advisors about the potential risks of the previous paper. We are actively reviewing our options." Loblaw confirms it switched from BPA to BPS.
WALMART CANADA: "The safety and well-being of our associates and customers is a top priority for Walmart Canada. Our receipt vendor has confirmed that Walmart Canada's receipts are BPA-free and contain BPS.  We follow all applicable Health Canada guidelines and will continue to track this issue in order to ensure a safe and healthy environment for our associates and customers."
COSTCO CANADA: "Costco Canada uses BPA-free paper for its receipts across all Canadian locations and has been since 2016." Costco did not confirm whether its replacement contains BPS.
EMPIRE (Sobeys, Safeway, IGA): "The receipt paper we use nationally is BPA-free. It does contain BPS. We're reviewing the findings and investigating alternatives as required. The health and safety of our customers and employees is our top priority."
METRO: "METRO's receipts have been BPA-free since 2011. We are actively looking for BPS-free receipt alternatives including paperless options as well as reducing the size of our paper receipts."
CANADIAN TIRE (Sport Chek, Mark's): "Receipts issued by our banners, which include Canadian Tire Retail, SportChek and Mark's, are BPA-free and have been for quite some time. While our receipt paper does have some BPS content, we are currently exploring alternatives that are completely bisphenol-free."
HOME DEPOT CANADA: "Our receipts are free of BPA and have been for several years; they are in complete compliance with all regulations. We continue to actively monitor this data."
MCKESSON CANADA (Guardian, I.D.A, Remedy's Rx): Did not respond by CK's deadline.
So who's already using phenol-free alternatives?

You'll still find old school paper and ink receipts in some older retail shops, including some Home Hardware stores. But in terms of those using new-wave thermal paper, Best Buy has gone totally bisphenol-free in the United States. Unfortunately, Best Buy Canada has yet to shift over.

By comparison, half the receipts in the Netherlands, Sweden and Norway were already bisphenol-free by 2017.  Not that any chemical alternatives should quickly be assumed to be trouble-free. That's what got us in the whole BPS mess to begin with.

Case in point: studies have found that a D-8-based thermal coating big in Europe has triggered the same kind of abnormal development in zebrafish embryos as BPA. And while a urea-based coating called Pergafast 201—used by Best Buy US—seemed to have very low or no oestrogenic activity compared to BPA and BPS, other studies have raised questions about its persistence in aquatic environments.

At this point, Blue4est, a blue thermal paper developed by DOW and Koehler Paper Group, seems to be the best option on the market. It's the first thermal paper option free of chemical developers and it won an EPA Presidential Green Chemistry Award in 2017.
[pullquote]
Who tested positive for what in Ecology Center's 2018 survey of American receipts?

Best Buy: No bisphenols (Pergafast 201)

Burger King: BPS

Chipotle: BPS

Claire's: BPS

Coldstone Creamery: BPA

Costco: BPS

Domino's: BPA

Home Depot: BPS

Lowe's: BPS

McDonald's: BPS

Michael's: BPS

PetSmart: BPS

Shell Gas Station: BPS

Staples: BPS

Starbucks: BPS

Subway: BPS

Target: BPS

Trader Joe's: BPS (Trader Joe's has pledged to go phenol-free)

Walmart: BPS

Whole Foods Market: BPS

[/pullquote]