Greener pastures
Posted
Part three of a dialogue on how corporate Canada can transition towards a sustainable, low-carbon economy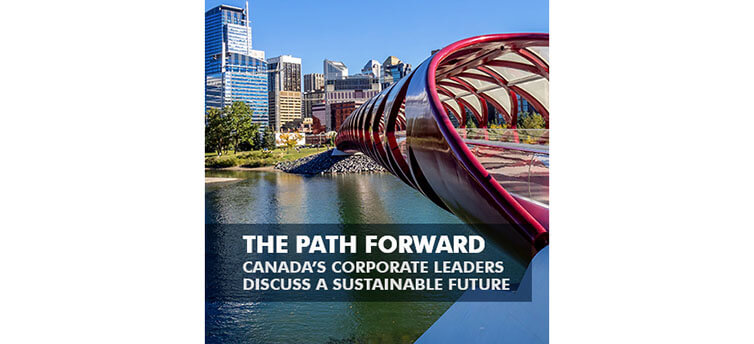 There may be almost a 50-year age gap between them, but cleantech startup Hop Compost and long established Flexahopper Plastics are both working in their own way to reorient Albertan (and Canadian) business practices down a low-carbon path.
A long-time member of the Lethbridge business community, Flexahopper is known for selling rotational plastic moulding products globally. Industry products range from bulk plastic containers to a variety of medical products such as facial oxygen masks. Though not the first sector you think of when it comes to sustainability, the business has been transformed by CEO Bill Spenceley over the past decade into one of the greenest rotational moulding companies in the world.
"In business, you're always looking to gain a competitive advantage in the marketplace through innovation, and our sustainability emphasis is driven in part by that," said Spenceley.
The company was an outlier in the industry when it first began sourcing green power with Bullfrog Power in 2004, followed soon thereafter by an energy-conservation-driven factory expansion and retrofit. But in an industry with high energy use and dismal energy conversion rates, what makes good business sense also lines up with longer-term sustainability goals. Says Spenceley: "The bad news is our [energy] efficiency isn't very good in our industry, but the good news is that there's lots you can do about it."
This discussion formed part of The Path Forward event in Calgary last week, the third instalment of a cross-country tour organized by Bullfrog Power, in partnership with Corporate Knights, to celebrate Canada's sesquicentennial and connect with the sustainability community to deliberate on the country's path to a low-carbon future.
Moderated by Stephanie Jackman, the founder and president of the sustainable business non-profit REAP Calgary, the discussion also featured Meghan Perry, the CFO at Hop Compost.
Started only three years ago, Hop Compost began in Calgary by collecting food waste from restaurants, grocery stores and hotels around the community and then converting that waste into high-end organic fertilizer. This is then used to increase crop yields, "taking the farm-to-table movement back to table-to-farm and really closing the loop," said Perry. Key to the company's success is the ability to monetize both the inputs and the outputs, charging clients for waste pick-up and then selling the resulting fertilizer.
The company has already expanded operations to Vancouver, and is planning to open additional facilities in Toronto and Edmonton next year.
For both companies, communicating this message of sustainability has been an essential tool in their overall business strategy. Hop Compost has devoted significant resources to measuring its environmental impact at every step of the process, allowing the company to provide each of its clients with monthly impact reports. "It's spawned a [de facto] competition for who can divert the most waste," said Perry. "We have these top clients that we're always profiling who are continually trying to divert more or trying to do better than their peers, but in a healthy community-spirit manner."
At Flexahopper, a key piece of the messaging has been convincing the broader plastics industry that incorporating sustainability principles into the business is fiscally prudent. "I would say that my industry, like a lot of other industries, has a lot of people who might be skeptical about doing something on the environment," said Spenceley.
He believes that it's vital for these people to hear this message from industry peers like him. "If our whole industry becomes more efficient, that's great for everybody," said Spenceley. "It's good for the industry, it's good for the consumers and it's good for the planet."
For example, Flexahopper in October installed 508 large solar panels on the roof of its Lethbridge facility, allowing the company to begin producing about 35 to 40 per cent of its own power. "With our electrical savings in our bills, on a monthly basis, it basically covers the loan payment," he said. "If it's a cash-neutral proposition, and you've got a strong balance sheet and you can afford it, why would you not do it?"
At both firms, embedding sustainability into company culture has helped to reduce turnover and attract new talent. At Hop Compost, new employees have high expectations because of what the company does and what the mission is. "If we can't back that story up, they're immediately unhappy," said Perry. They need to prove that they're successfully executing on all the things they advertise, which is helped by internal metrics and benchmarking of impact.
Employee expectations in the job market have changed dramatically since Spenceley first got involved in Flexahopper, and companies that don't adapt will fall behind in terms of recruitment. "When you try to recruit employees, especially when it comes to management and highly skilled individuals, they want to hear what you're doing regarding sustainability," said Spenceley. "A lot of companies, they may be able to say that 'we recycle our cardboard,' but we're doing some big things that step well beyond that."
With a wide range of competing sustainability priorities and limited resources, companies are often forced to prioritize which initiatives should be targeted first. For both Hop Compost and Flexahopper, the supply chain remains a key source of concern.
Hop Compost's business model relies on large cleantech-oriented composting machines that are built in China, resulting in a large carbon footprint to deliver them across continents. The devices remain prohibitive to build in North America due to the high cost of stainless steel.  "We just purchased the intellectual property, so now we're looking into other options and can we source things more locally," says Perry. "If not the entire machine, perhaps parts of it?"
Transportation is also a source of concern for Flexahopper, in particular delivering its goods to customers around the world. Spenceley would like to transport goods by rail as much as possible to reduce its carbon footprint, but has been frustrated by how much the business model for rail lines in Canada has shifted away from smaller numbers of bulk products towards mass quantities of oil and other commodities. "We'd like to see that change back," says Spenceley.
The path forward for both companies will involve a mixture of innovation and collaboration because, as Perry told the audience, "This isn't an easy journey, and no one quite has it figured out yet."