How to respond to investor attention on your ESG performance
With investors demanding more transparency from the real estate and infrastructure sector than ever before, now is the time to get ahead on ESG disclosure and performance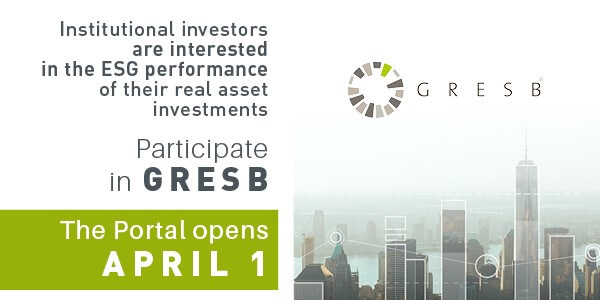 ~ Sponsored Feature ~
In 2019, real estate and infrastructure investment managers can no longer afford to ignore investor attention on their environmental, social and governance (ESG) performance.  Responsible investing has gone mainstream and the way that institutional investors view the performance of their managers is increasingly influenced by ESG factors. They want to know whether managers are monitoring ESG-related risks and exploring opportunities for long-term value creation.
ESG action is accelerating across the world
At last count, more than 80 institutional investors, collectively representing over USD 18 trillion in institutional capital, use GRESB data and analytical tools to monitor the ESG performance of their real asset investments. This demand for ESG information is reverberating through the investment chain and the industry is responding at scale.
Last year, more than 900 real estate companies and funds, 75 infrastructure funds and 280 assets stepped forward to participate in the GRESB Real Estate and Infrastructure Assessments.  Over 79,000 real estate assets valued at USD 3.5 trillion are represented in the GRESB benchmark, with infrastructure coverage growing to USD 0.6 trillion.
What are the GRESB Assessments and how do they work?
GRESB assess and benchmarks the ESG performance and sustainability best practices of real estate and infrastructure investments worldwide.  The methodology is consistent across different regions, investment vehicles and property types and aligns with international reporting frameworks, such as GRI and PRI.
The Assessments follow a regular annual timeline, with the Portal opening from April 1 to July 1 each year. Participants complete the Assessment by reporting through the Portal.  Once all Assessments have been completed and the Portal has closed, GRESB begins the process of validating, scoring and benchmarking the reported data.  GRESB then provides an overall GRESB Score and Rating for each participant as well as a detailed Benchmark Report with an in-depth, indicator-by-indicator analysis of the ESG performance compared with peers.
Get ahead of the global ESG trend
By participating, real estate and infrastructure managers non only enhance their credibility with investors, they also get a clear picture of how their ESG performance compares to their peers and where to prioritize their improvement efforts.
With investors demanding more transparency from the real estate and infrastructure sector than ever before, regulators mandating a wider set of ESG disclosures, and customers, owners and other stakeholders demanding increasingly sustainable infrastructure and buildings, it's time to get ahead of this global trend.
The 2019 GRESB reporting period starts on April 1, so you still have time to get prepared.  See the 2019 Assessment Resources setting out the information you will need to complete the Assessments.  Our goal is to ensure you have a smooth reporting process so please get in touch with your questions.
GRESB.com